HR Focus in partnership with MTN Ghana, launched MTN Pulse Business Challenge 2021 on Tuesday, 10th August 2021, at the L'AINE Office Complex (LOC), Adabraka. Speaking at the launch event, the CE of HR Focus, Dr. Mrs. Ellen Hagan said, "The competition is structured in a way that encourages students to think on their feet and outside the box, to produce innovative business solutions relevant in today's working world. Our focus is on the youth primarily because they are the force of change in today's society and the next generation of thought leaders."
Last year's MTN Pulse Business Challenge saw students within the ages of 18-23 competing for the grand prize of GHS10,000 and many other prizes. The competition involved real-life business case analysis and problem-solving strategies.
The competition will span over the next four months, and will present challenges at the various levels for the students to work on, in a bid to unearth their entrepreneurial prowess and business sense.
HR Focus during the pandemic, managed to organise Business Challenge semi-virtually, where participation was opened to individual tertiary students between the ages of 18-25.
At the launch event, Madam Gloria Acheampong, the Senior Specialist, Youth Segment – Consumer Marketing of MTN explained why MTN chose to partner with HR Focus to organise this tertiary competition. According to Gloria, "MTN Pulse is supporting because many more people should be given the opportunity to build their capabilities as they learn the practical skills required to become an entrepreneur." She further explained that some of the key principles of business growth that will be picked up by students through the competition.
The vision of Business Challenge is to groom innovators for the world of work who will champion impactful change in the world of work in Ghana and beyond. Through this competition participants have been challenged to become leaders and innovators of their world. She further encouraged tertiary students to participate in the competition by visiting events.hrfocusuniverse.com/businesschallenge/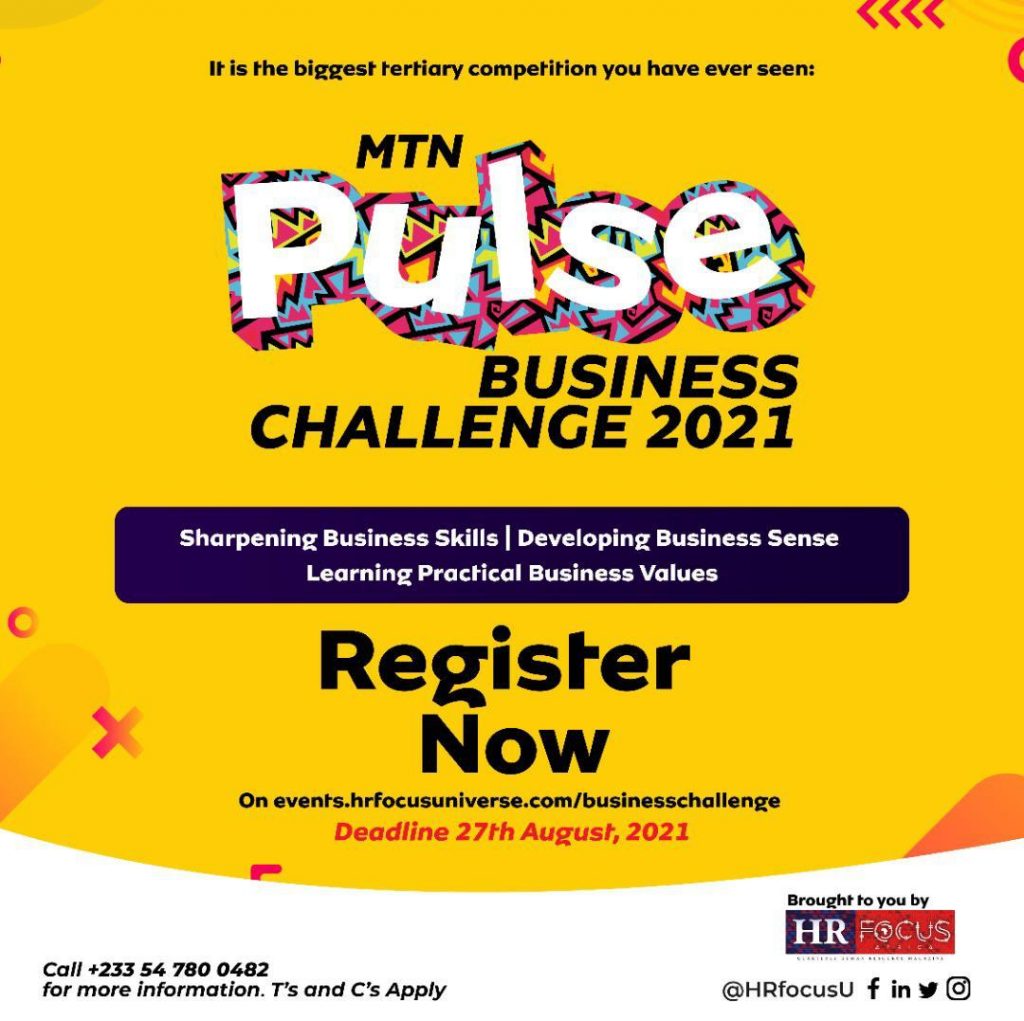 This year's challenge includes new activities like the Campus Road Tour, Boot camps etc. and promises to be an exciting one. Visit events.hrfocusuniverse.com/businesschallenge/ to participate in the MTN Pulse Business Challenge 2021!